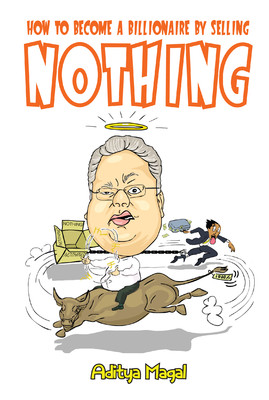 I have "known" Aditya Magal for many years - in a strange way. We are blogging and later Twitter buddies. But till a year or so ago I only knew him by his online personal "The Fake Jhunjhunwala" (
Blog
,
Twitter
) - where he took on the persona of the famed stockbroker Rakesh Jhunjhunwala. With that hilarious take on not just the capital markets but current affairs too, the blog and then the twitter account were runaway hit (currently he has 81k followers on Twitter) In fact the Forbes India magazine
was confused
if the man and the persona were indeed different.
And then two years ago,
the cat was out
of the blog. The blog was started by my friend
Mark Fidelman
who after he left India handed over the blog to Aditya to run. And Aditya got to meet the real RJ as well :)
With that context (and disclaimer that Aditya is an online friend) - when Aditya said he was writing a book and wanted to send me a copy I readily agreed.
The premise of the book is that a seemingly crazy person approached Rakesh Jhunjhunwala saying he wants investment to create a company that will manufacture and sell "Nothing". Convinced that the fellow is mad Jhunjhunwala writes him a cheque of Rs. 1 lakh to see a good psychiatrist. However the entrepreneur says that Rakesh Jhunjhunwala has invested in his company and then lists the company - and everyone wants to buy shares in the company making the entrepreneur a billionaire.
What happens after that is the crux of the story and Aditya uses "Nothing" as a metaphor to make acerbic and insightful comments from the state of marketing and sales, our preoccupation with greed and material wealth, the politician-business nexus, the way pricing is done to manipulate sales, how customers are hoodwinked, how meaningless movies are made, how litigation is manipulated etc.
Which is not to say the book is great. There are passages that get repititive include Jhunjhunwala repeating how awesome he is (the persona being brought from the blog), a foray into Davos which could have been shorter and some others. These make the book painful to read sometimes. There are also some passages that are in Hindi and might be irritating to read for non-Hindi speakers.
But overall, a great first attempt - transitioning from writing a blog to a book is never easy - and I think Aditya's next book is going to be way better.