I was really looking forward to SHRM India's Annual Conference this year. It had an amazing line up of speakers and delegates and offered me an opportunity to catch up with friends and make new ones.
So after a sleepless night, because I had an early morning flight I arrived at the venue, the Taj Palace at Dhaula Kuan, bang in the middle of the diplomatic enclave surrounded by embassies of various nations.
First person I run into is my perennial SHRM conference roommate
Anish Aravind
(
Twitter
), a person I have known online for more than a decade now. Then over breakfast as we were waiting for check-in we met
Ruchi Bhatia
(
Twitter
),
Harlina Sodhi
(
Twitter
) and
Yash Mahadik
(
Twitter
). At the reception we also met
Dr. Brad Shuck
, with whom I had earlier interacted with on the pre-event Twitterchat
With Anish
From left: Yash, Harlina, me and Ruchi
From left: Anish, Ruchi, Dr. Brad Shuck and yours truly
The actual event kicked off by an address by
Achal Khanna
(
Twitter
) the CEO of SHRM India followed by a performance by a dance troupe of under-privileged children dancing to AR Rehman's "Maa Tujhe Salaam"
The keynote I found really interesting was Dr. Shuck's on Re-inventing Employee Value Proposition (EVP). Some of the points he made were that there were three components of EVP.
Dr. Brad Shuck, Associate Professor of Organizational Leadership and learning at the University of Louisville and Strategic & Academic Partner, BI WORLDWIDE
3 principles of EVP by

@drbshuck #SHRMiAC

Cumulative Effect

Reciprocity, freely given not transactional

Engagement, when your voice matters

— Gautam Ghosh (@GautamGhosh) September 14, 2017
And that EVP could be above the line and below the line of courage
— Gautam Ghosh (@GautamGhosh) September 14, 2017
The biggest takeaway for me was if we objectify the idea of EVP we remove the human element, and it puts the responsibility of the employer to maintain it.
The other keynote was by
Rajesh Sud
MD of Max Life Insurance stressed the importance of questioning as a skill and the ability to hold multiple points of view and believe all of them at the same time. He also said that HR can enable organizations to make them fit for purpose. Another great point he added was that he encouraged his organization to think of it as an inverted pyramid, with customers and front line staff at the top and the CEO at the bottom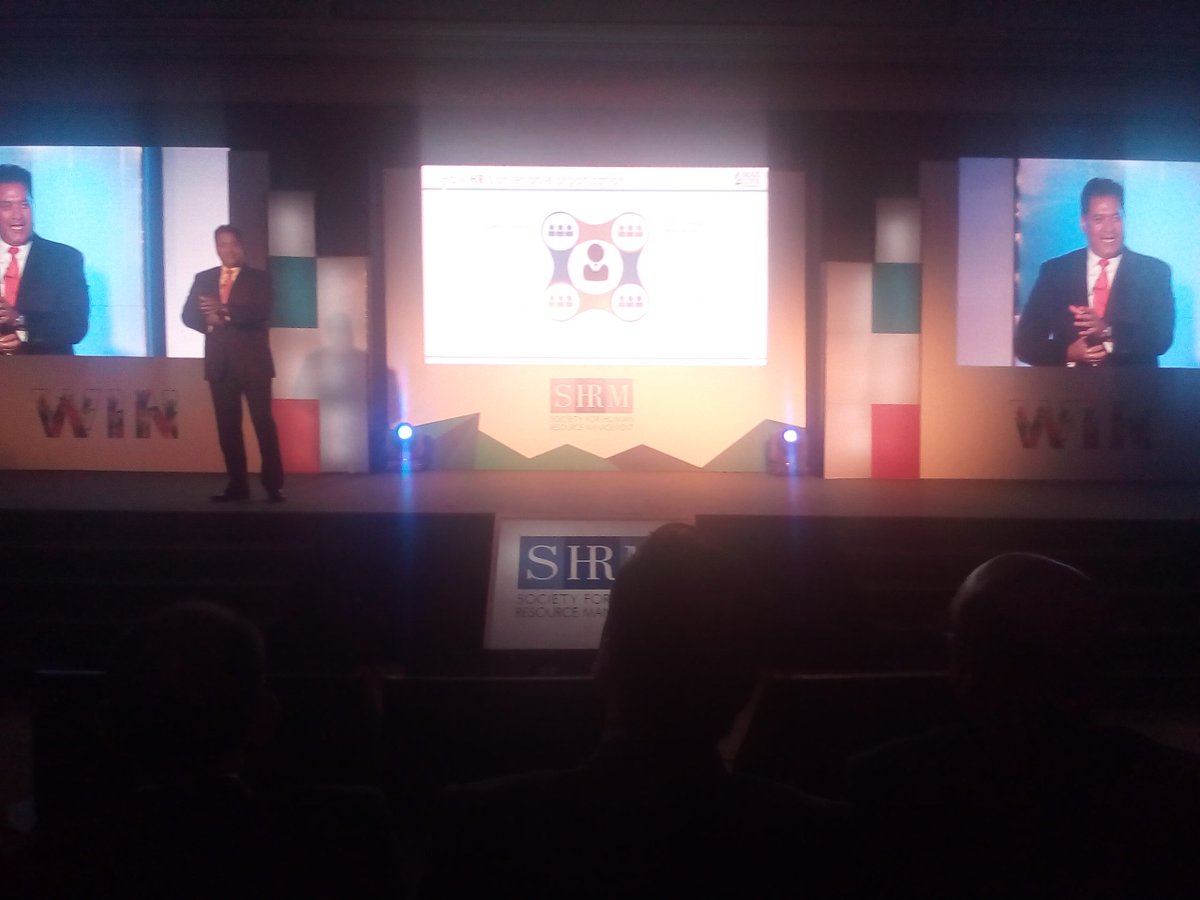 Rajesh Sud MD Max Life
— Gautam Ghosh (@GautamGhosh) September 14, 2017
The other session I liked was moderated by
Abhijit Bhaduri
(
Twitter
) on "Are we hiring the right talent- going beyond the perfect resume", where there was a lively discussion on how we define the right hire, can we go beyond the obvious and consider liberal arts folks. There were also discussions whether resumes were relevant, when one of the speakers made a point that resonated with me
"Resumes are a format for telling a story. Who ever tells a good story succeeds better"

#SHRMiAC

— Gautam Ghosh (@GautamGhosh) September 14, 2017
The other session I loved was "Dramatic Conversations" between Abhijit and National Award winning actor
Ashish Vidyarthi
(
Twitter
) where Abhijit took on the role of a father and Ashish took on the dual role of a son, and a neighbour and, the way a parent's expectations can lead his child onto a career which he doesn't really love, and the lesson was that it's never too late to start over and discover your passion.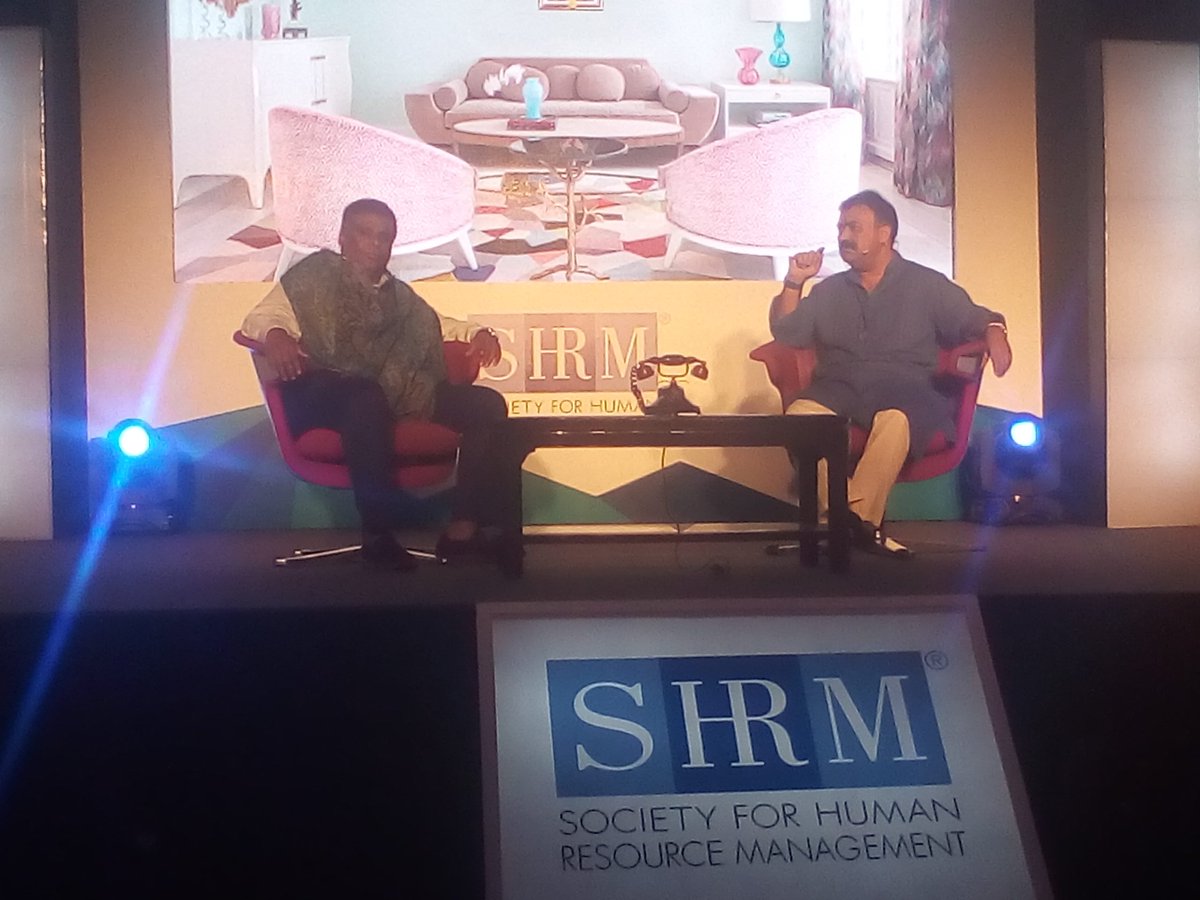 Left: Ashish Vidyarthi , Right: Abhijit Bhaduri
The other highlight of the first day was the HR awards by SHRM to various organizations followed by the networking dinner. Some glimpses from the event:
With Achal Khanna, CEO and Shruti Sud, Lead Marketing of SHRM India
Ashish Vidyarthi clicks a selfie
Showing off our #SHRMBloggers T-shirt



The expo area was also a great hit, with companies like Udacity, ZingHR, Belong.co, People Strong, AuthBridge making an effort to engage delegates with interactive activities.
With 5 concurrent sessions in the afternoon it was a case of fear of missing out. Thank fully you can find the tweets by the various delegates by going through Twitter and searching for the hashtag #
SHRMiAC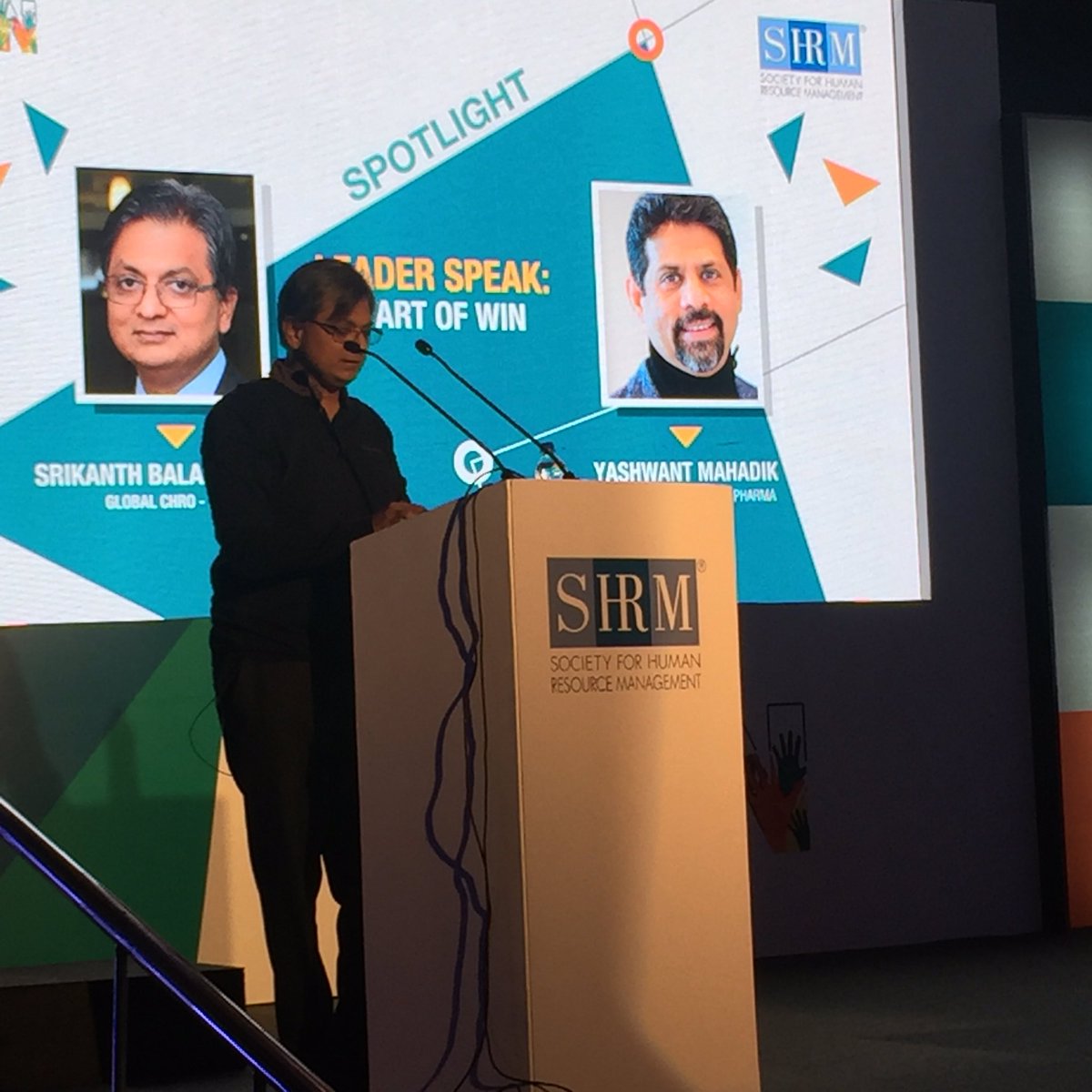 Srikanth
Balachandran, Global CHRO, Airtel
There were three standout sessions the second day. The first was a keynote by Srikkant, CHRO of Airtel who had been a finance professional all his life and had only become a HR head over the last two years. He shared how his perspective has changed because of the change of role and his view of the world as shades of gray rather than the black and white of numbers. He also shared how change is not dependent on just stating the facts (as he used to do as a finance person) but understood now the importance to the emotional side of change and collaboratively working towards it.
"winning is always collective" - Srikkanth , CHRO, Airtel

#SHRMiAC

— Gautam Ghosh (@GautamGhosh) September 15, 2017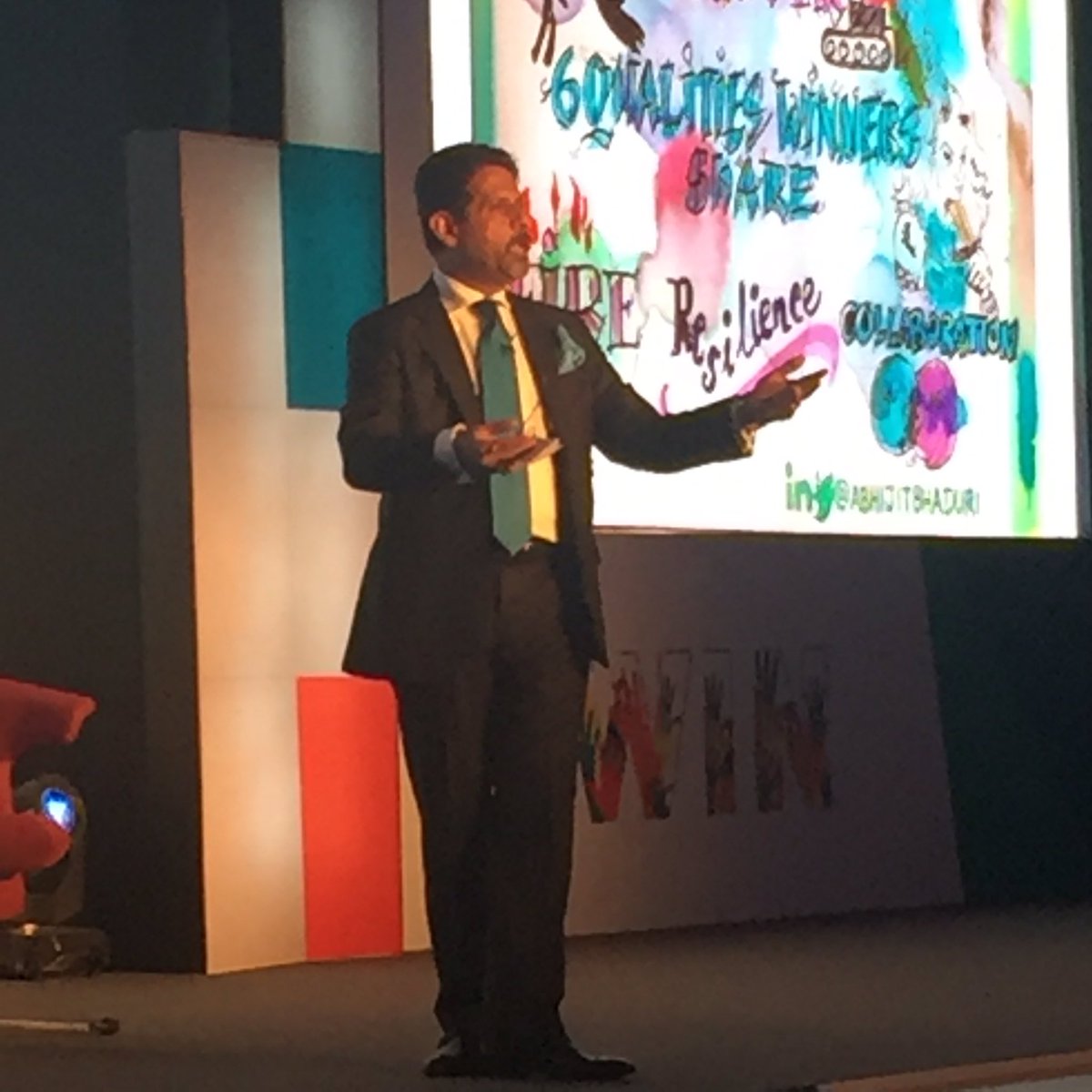 Yash Mahadik
The next keynote was delivered by Yash Mahadik who shared that if you set up your team to be successful they conspire to make you win. He shared an example of Astra Zeneca where he worked that the definition of "winning" was failure (that you learn from), success (coming out with a working molecule) and triumph (success in the marketplace). He said that teams need a "working vision" to win and not one of those big motherhood statements. With respect to that he shared the story of the England rowing team who's "working vision" for every decision they took was the question "Will it make the boat go faster?" You can learn more about
that story on their website
.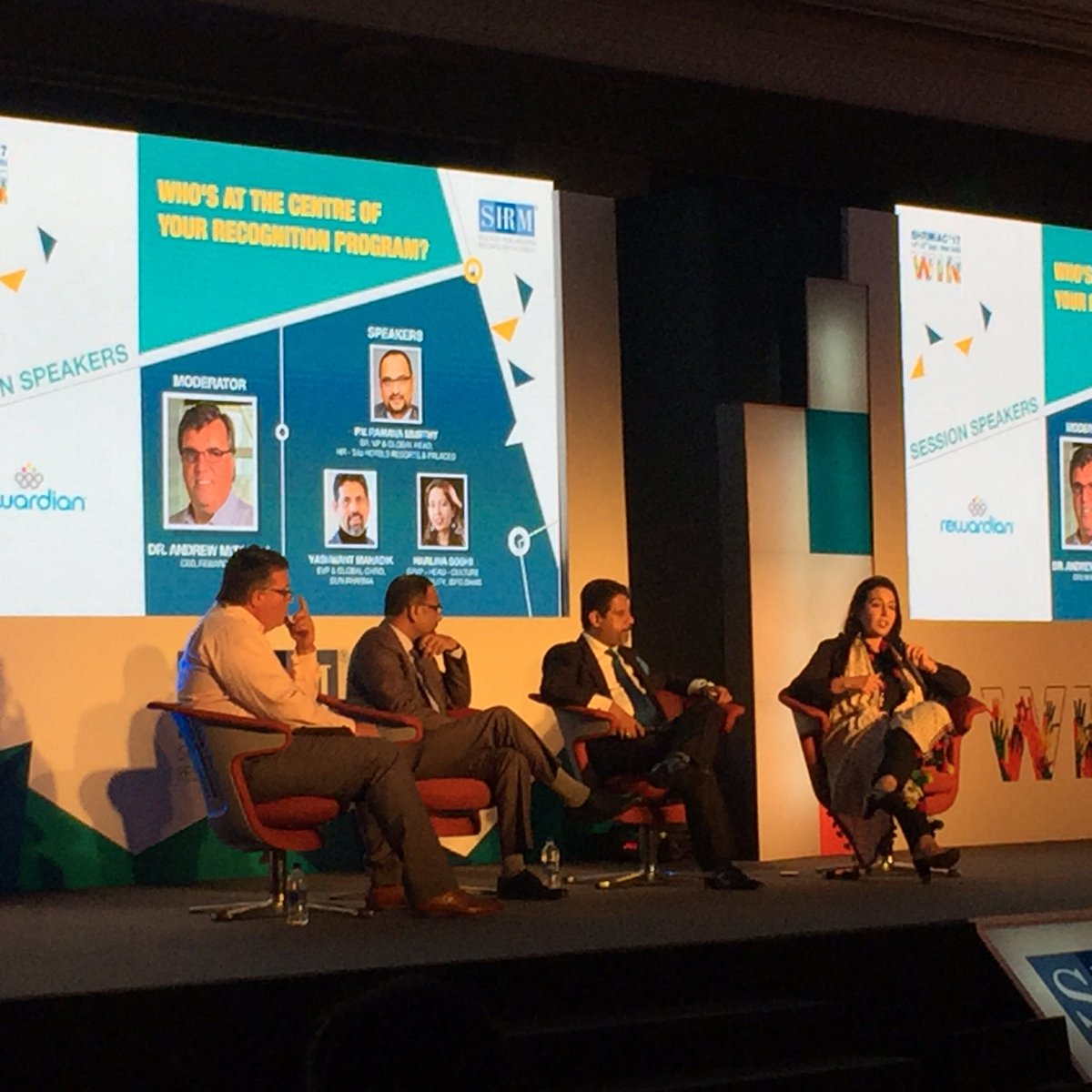 From left: Andrew Mitchell, Dr. PV Ramana Murthy, Yashwant Mahadik and Harlina Sodhi
The other session also had Yash this time in a panel along with Harlina and
PV Ramana Murthy
. The topic was who is at the centre of the company's Recognition program. The consensus was that recognition was more important than rewards and has to be aligned to the values of the organization. Dr. Murthy shared how the
Taj Hotels
had a employee cafeteria that served higher quality of food than their restaurants - showing the employees that they are more important than the customers. Yash shared the example of how certain managers have a predisposition to recognise their team members and he gave the example of my ex-colleague
Mansoor Hussain
(
Twitter
), and said that you can't write a process for this ever. Harlina shared an example of a senior leader who's belief was that you need to "catch people doing the right things"
The other standout discussion was between three CHROs and three providers of HR/Talent software and services, expertly moderated by
Pankaj Bansal
(
Twitter
), Co-Founder and CEO of
PeopleStrong
- and the issues were raised by the vendor side that HR people are not in charge of the decision to buy their own software, that they prefer going straight to the CIO/CEO, the issue with delayed review and decision making and the delay in recieving payments. From the CHRO side
Vivek Paranjpe
(
Twitter
) and others told the HR vendors to understand their buyers and build a business case before approaching them. He pointed out that three are three buyers the user (in this case HR), the technology buyer (IT) and the commercial buyer (Finance) and they need to address the needs of all three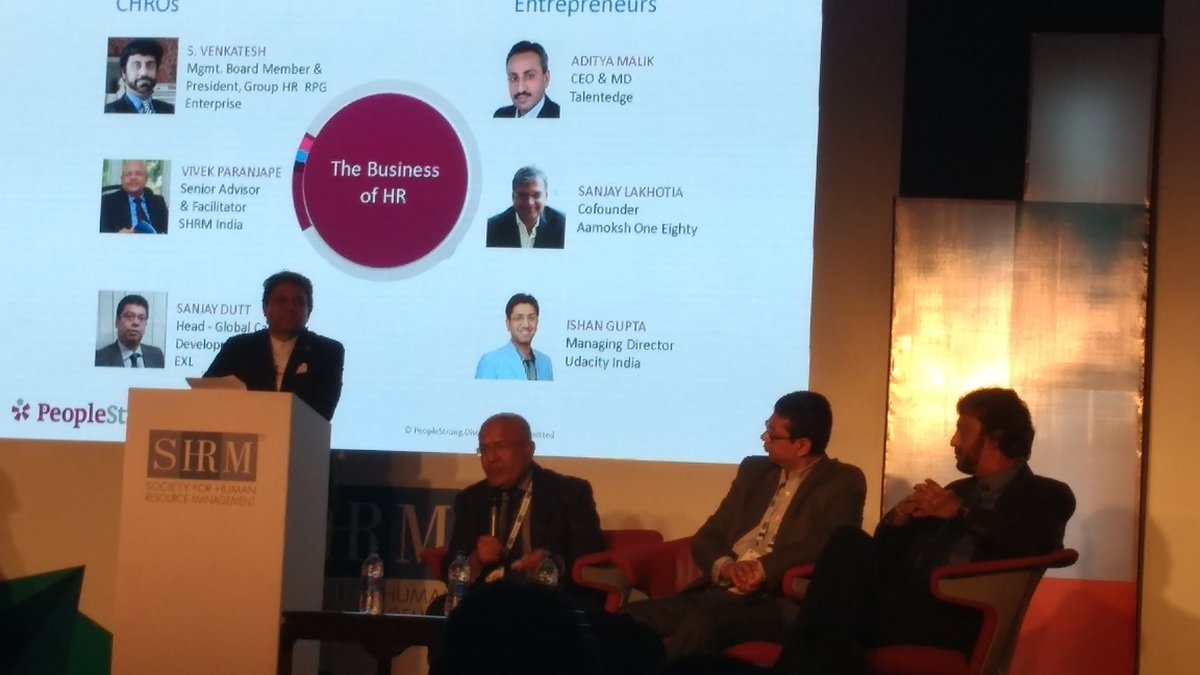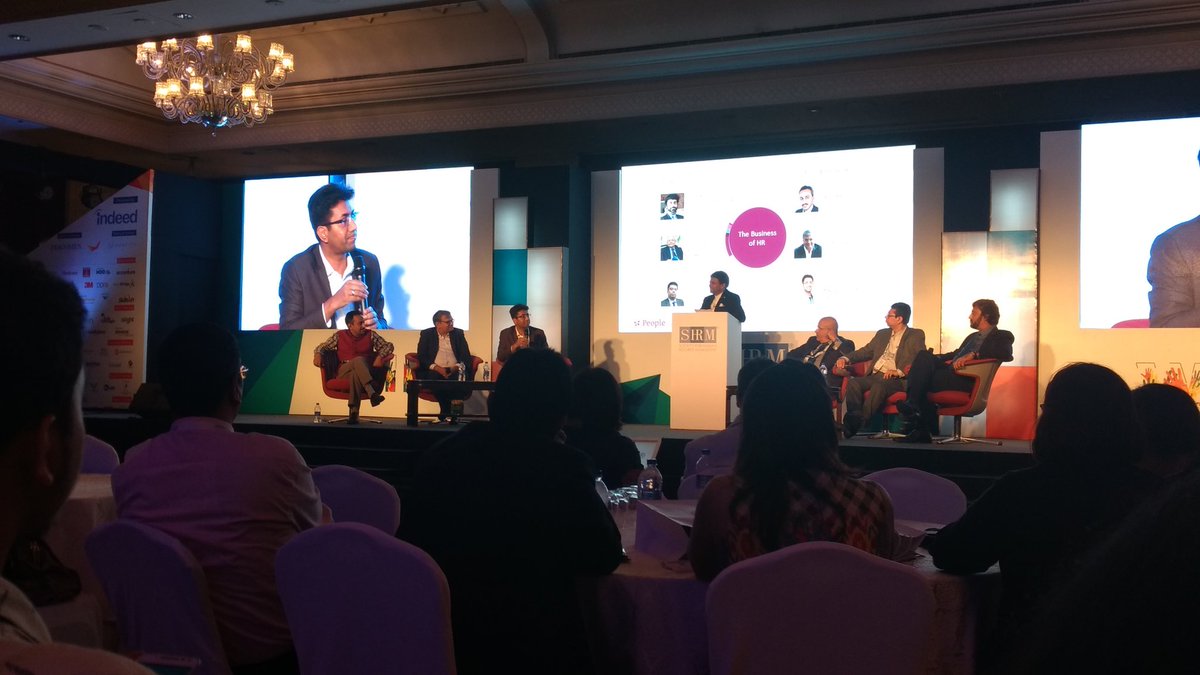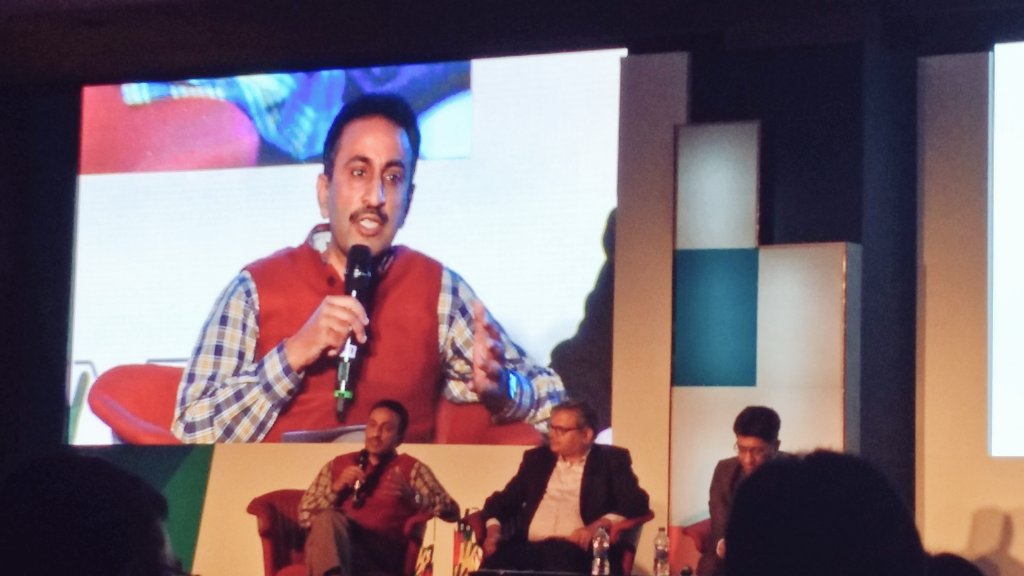 Other aspects the discussion touched on were the investment scenario, to which
Sanjay Lakhotia
(
Twitter
) of
Talentonic HR Solutions
replied he doesn't understand this world of funding and why people get funds and others don't. He advised entrepreneurs that they should not think about it if they view a job as a fall-back option.
Vivek Paranjape, Marcel Parker, Aquil Busrai and Udai Upendra
The one area I think SHRM could have done a better job was with their "Ask A Coach" initiative in the expo area. I thought that was an opportunity missed and a learning for next year. On the hotel side, the Taj Palace's food was exquisite and the hospitality tremendous. People were specially raving about their "kulladh chai" that they served along with normal tea and coffee during the breaks in the sessions :) I also missed a session on Whiskey mixing by Andy Young
After the sessions it was time for me to leave the venue to the airport to catch my flight. The learnings and the connections would stay for a long time!
So that were my highlights from SHRMiAC !
Update
from the SHRM India team
#SHRMiAC was the buzz-word on social, with 8k+ tweets generating more than 9mn+ impressions. Our great content was very well supported by the #SHRMiAC Bloggers & Influencers, and helped us garner the number "Second" trending spot for India on Twitter on both days.
Others' blog posts:
By
Shalini Sharma
By
Mansoor Hussain
By
Kunjal Kamdar
Mainstream Media coverage
techObserver
India Education Diary
Economic Times
Echo Of India